Skip Main Navigation
Our Contribution to Climate Change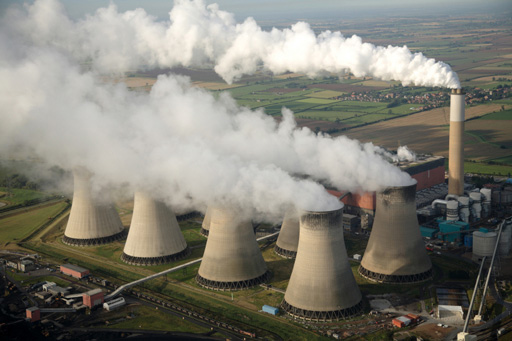 Power stations release gases into the atmosphere.
Did the video help you make a connection between energy and global climate change? This is how it works:
Earth's temperature depends on the balance of energy entering and leaving the Earth and its atmosphere. The sun heats up the land and oceans, and greenhouse gases greenhouse gases in our atmosphere retain this energy, thereby regulating the Earth's average temperature and keeping the planet habitable.
Increasing the amount of greenhouse gases increases the amount of heat trapped in the Earth's atmosphere. This causes the overall temperature of the Earth to increase, and that leads to all kinds of changes that are collectively called global climate change.
The primary greenhouse gas emitted by human activity is carbon dioxide carbon dioxide (CO2). Humans have increased the amount of carbon dioxide entering the atmosphere through the burning of fossil fuels fossil fuels for electricity, transportation and industry.
But how does this actually happen-and how much are we each contributing to the problem?
Explore these resources to learn more about our energy consumption and how it impacts the environment.
> Energy Consumption (PDF)


(from the Need Project)
> How Big is Your Footprint?


(.pdf from Discovery)