Skip Main Navigation
Energy and Climate Change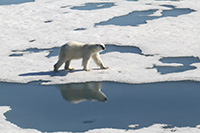 Climate change is the greatest threat to polar bears.
When you made and discussed your concept map, did the idea of "global climate change" come up? A big reason that so many people are concerned about energy consumption energy consumption in our country-and other countries around the world-is that our use of energy is contributing to global climate changeglobal climate change.
Climate Change
Watch this video to learn more about global climate change.
> Text version of Climate Change
Now refer to page 2 in your Engineering Portfolio and take notes on what you learned in the video.