Skip Main Navigation
Personal Conservation Commitment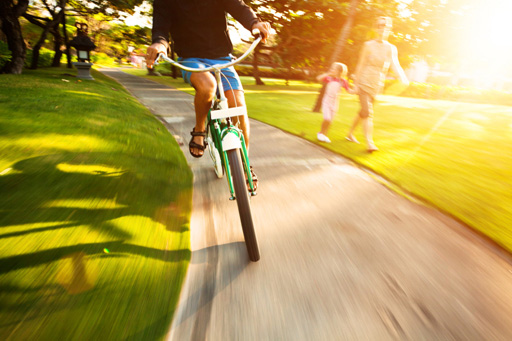 Walking or riding a bike instead of traveling by car can help to conserve energy.
It is time to use what you know to write your personal conservation commitment. This is a plan of action in which you will commit to reducing your consumption of energy.
Use the information you have gathered from your research and class discussions to create a personal energy conservation commitment. Think about the ways in which you use energy in your daily life and routines. Describe at least two actions you can take to reduce energy consumption and carbon dioxide emissions for each of the four areas of daily life you looked at (home, transportation, food and waste). Record your plan on page 6 in your Engineering Portfolio.
> Carbon Footprint Calculator


(from the Nature Conservancy)
Begin at the "Get Started" tab and enter in new choices that reflect a reduction in energy usage. Return to page 4 in your Engineering Portfolio and record your new results in the second part of the chart. Do you see a difference in carbon dioxide emissions?
Create a bar graph comparing your original carbon emissions and your carbon emissions after enacting your personal conservation plan. You may use this online graphing tool:
> Create a Graph


(from Kid's Zone, Learning with NCES)
You may also make your graph using the grid paper on page 7 in your Engineering Portfolio.